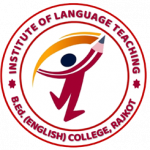 (Affiliated to Saurashtra University) "Nurturing Minds, Shaping Futures"
English Language Teaching - B.Ed.
Education empowers a person at multiple levels. It prepares a person to meet life's challenges not only at an individual level to lead a meaningful life but also enables them to become a useful member of the society. Quality education assists a person in earning their living as well as teaches them the ethical values and moral responsibilities.
"Education is the most powerful weapon which you can use to change the world." – Nelson Mandela
The role of a teacher in inculcating these values, scientific temper and humanistic concerns in the students is considered the most vital component of the whole process of education. The teachers at ILT rajkot with their outstanding qualifications are equipped with the skills necessary to bear the onerous reponsibility of grooming the students to face new challenges.
The expertise of our staff not only educate the student to become a wise teacher but also developes creative thinking in them. When we say that the future of country is shaped in class rooms, it means that we need dedicated, noble and humble manpower. We train our students to enhance their capabilities in a way that they are able to give quality education to their students. The college focuses on over all development of trainees to make them responsible and dedicated teachers.
"A teacher is a compass that activates the magnets of curiosity, knowledge, and wisdom in the pupils. – Ever Garrison"
ILT is the only language teaching institute in Saurashtra, training english language teachers. The college is committed to give society highly intellect and dedicated teachers. We train our teachers who will be able to teach their students in school, as the way the school students want to learn. When each individual has his own choice to learn it is always challenging for teacher to focus individual student. We prepare our young team so that they can accept this challenge and nurture the future of young students in school.
Innovative methods of teaching are prime area for trainees. Blended learning, Cooperative learning Collaborative learning, team teaching and other methods is part of teaching learning pedagogy. We are having one of the best Language laboratory to enhance the skills for our trainees. Computer teaching and other subjects like Indian Constitution make our training unique.
I welcome you to this eminent institute to become a humble, dedicated and honorable teacher.
Read More about Principal